Puma staat in de top 5 van de meest bekende (sport) merken ter wereld.
Maar wist je dat Puma werkschoenen heeft die jouw werk een stuk aangenamer kunnen maken? 

Puma werkschoenen, sportieve veiligheidsschoenen of beveiligde sportschoenen?
Deze werkschoenen kan je misschien wel het best omschrijven als beveiligde sportschoenen.
Puma is continu bezig met het ontwikkelen van nieuwe technieken in sportschoenen en deze vernieuwingen worden ook toegepast in de Puma werkschoenen.

Wear2work heeft meer dan 60 verschillende veiligheidsschoenen van Puma op voorraad!
Er zijn zoveel verschillende modellen op de markt zodat je de werkschoenen kan kiezen die passen bij je beroep. Zo zal iemand in de bouw eerder kiezen voor de robuuste serie Puma werkschoenen, terwijl iemand in de logistieke sector de voorkeur geeft aan lichte sportievere modellen.
Geen last van vermoeide voeten
Bij veel beroepen loop je ongemerkt vele kilometers en sluit je de werkdag af met vermoeide voeten. Sterker nog, veel mensen beginnen hun werkdag met vermoeide voeten.
Dit is simpel te voorkomen door de juiste werkschoenen te kiezen die passen bij jouw werkzaamheden.
Als je gaat sporten of hardlopen dan doe je dit met sportschoenen en niet met leren veterschoenen.
Het is belangrijk dat je voeten goed worden afgewikkeld bij het lopen en dat er voldoende demping in de zool aanwezig is die schokabsorberend werkt. Met de jarenlange ervaring uit de sportwereld heeft pumawerkschoenen ontwikkeld die aan al die eisen voldoen. Dat zorgt ervoor dat je bij het dragen ervan minder vermoeide voeten zal hebben.
Wanneer je eenmaal op werkschoenen van Puma hebt gelopen, wil je nooit meer iets anders!
En ook voor dames zijn er speciale Puma dames werkschoenen in verschillende kleuren en uitvoeringen. En ook de dames werkschoenen kenmerken zich door een stijlvol, sportief uiterlijk.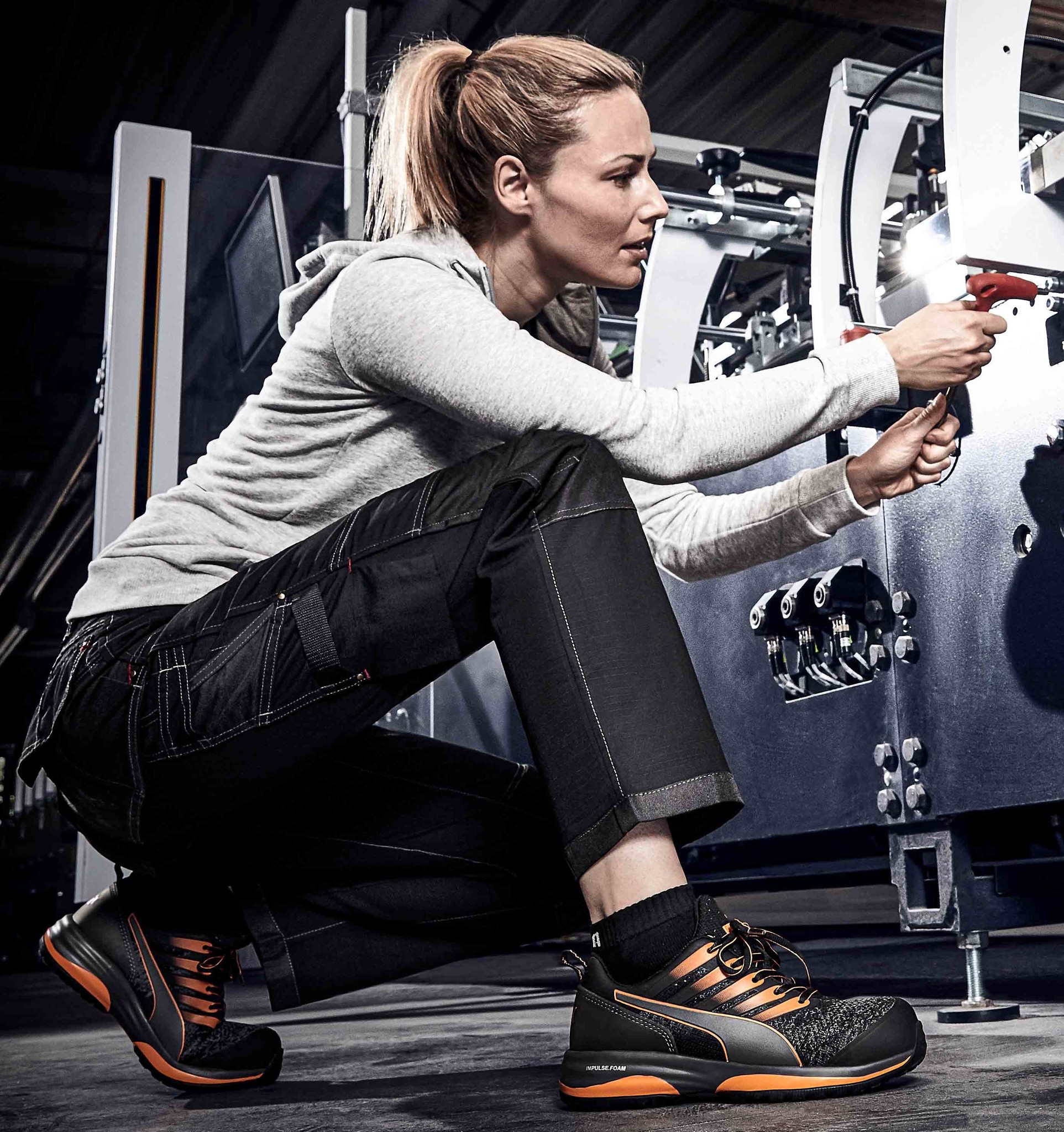 Ruim assortiment Puma werkschoenen
Ben je benieuwd welke Puma veiligheidsschoenen het meest geschikt zijn voor jou? We hebben meer dan 60 verschillende Puma veiligheidsschoenen in onze winkel dus kom passen en neem ze gelijk mee! Of kijk eens tussen alle werkschoenen die wij in ons assortiment hebben. 
Bestel ze vandaag nog online bij WEAR2WORK en binnen 1 werkdag loop jij op je nieuw Puma werkschoenen. En Puma werkschoenen versturen wij altijd GRATIS!
Wear2work is de al bijna 10 jaar de Puma werkschoenen specialist van Nederland.